Fashion
Five Star Classic Winter Linen Collection Catalog 2014-15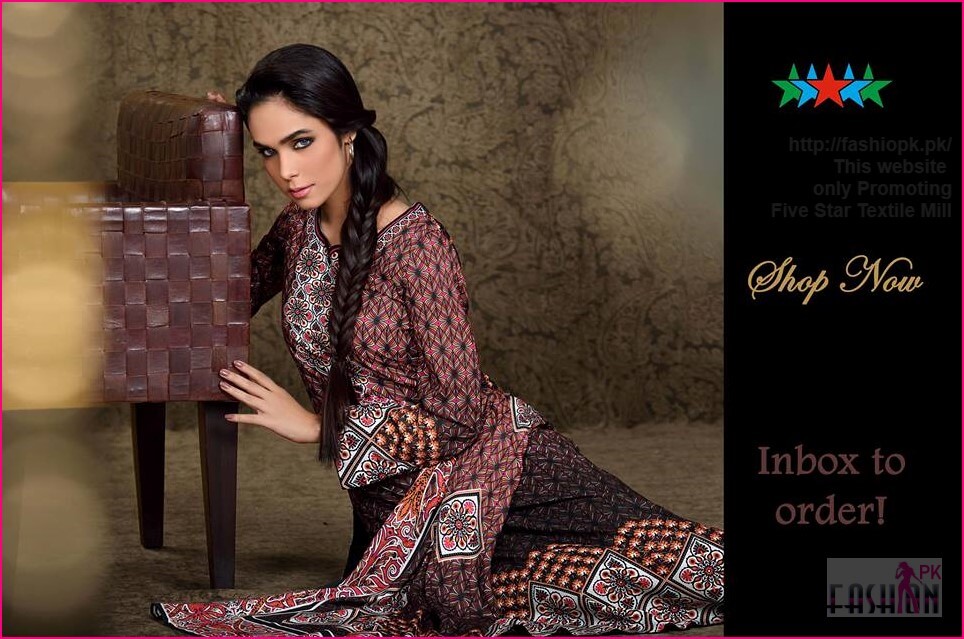 Five Star Classic Winter Linen Collection Catalog 2014-15
Five Stars Classic Linen Collection 2014-15 For Women Especially Launched For The Winter Season 2014-15. Five Star, Magic In Print Style And Deigns, Fall/Winter 2014 2015 Has Been In Stores Nationwide. The Winter Classic Range By Pakistani Fashion Brand Five Star, Which Is Also Accessible And Ready For Sale At The Five Star Outlets All Over Pakistan, And Other Leading Stockists Nationwide. Five Star Use Finest Quality Premium Linen Fabric In This Collection As Per The Season Requirement. The Variety Of Color Shades Utilized, Bends Towards The Traditional End, Via Black Color Shade And Cool Grey Dissimilarity With Winter Season Suitable Tones Of  Maganda, Pink Pinkish, Red, Blue, Dull Gold, Rustic Brown, And Sea Green. Mixtures Such As Overcooked Orange With Green And Parrot Combination And Blend Of Dark Purple Shade Are Suggestive Of Bold Winter Fashion Collection For Women Outfit. Specially Made For Women.
Five Star Classic Winter Linen Collection Catalog 2014-15
 ( Front Vs Back, Latest Five Star Collection Fall/winter }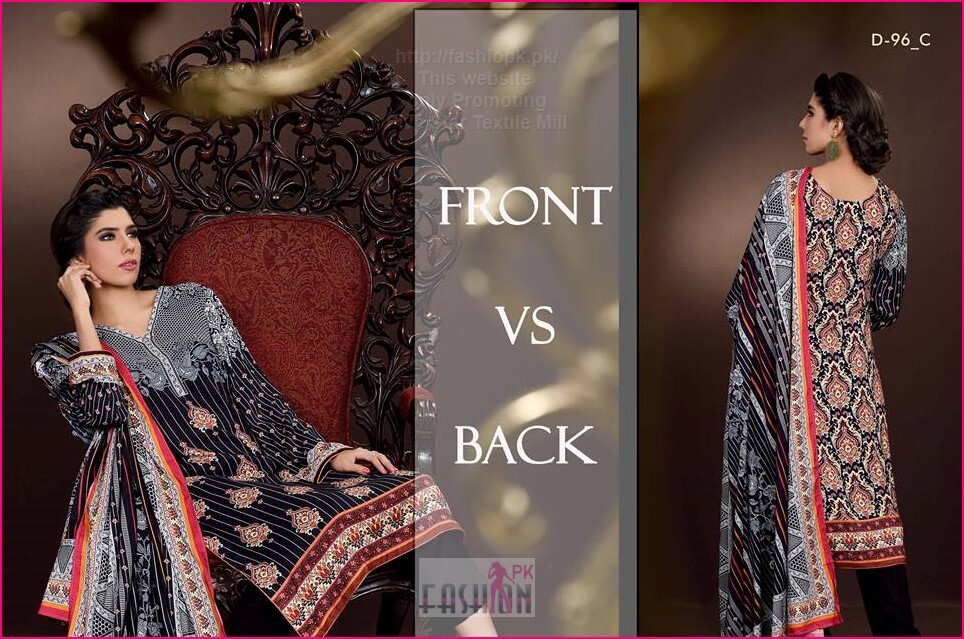 The brand has Outlets In All Major Cities Of Pakistan Like Lahore, Islamabad, Karachi, Faisalabad, Sialkot, Gujranwala, Multan, Peshawar, Rawalpindi, Sargodha, Bahawalpur, Sheikhupura, Wah Cantt, Abbottabad, Mandi Bahauddin, Mardan, Muzaffarabad, Sahiwal, Jhelum, and Hyderabad. Each Design Is Available In Diverse Colors Variation As Per Season Trend. Price Range Of Five Star Magic In Print Winter Collection For Women Is Very High But In Response, Quality Is Very Good.
Five Star Classic Linen Collection 2014-15 For Winter
Five Star Textile Mills Is One Of The Most Famous, The Oldest And Leading Trend Ever Textile Companies In Pakistan. Five Star Textiles Started Its Work In The Field Of Fashion In the Year 1956, Since Then It Is Providing High-Quality Materials At Affordable Prices. The Main Production Line Five Star Classic Lawn Textiles, D'vine, Vogue Embroidered Silk, Chiffon, Sanzany De Silk, Swiss Fata, Classic Latha, Hi-Life Cotton, Swiss Voile, And Pima Cotton.
Five Star Winter Classic Linen & Khaddar Kurti Collection 2014-15
Every Textile Fashion Designer And Clothing Label Is Busy To Introducing Their Fall/Winter Collection 2014-15. Some Famous Name Of Pakistani Textile industry Already Has Unveiled Their Winter Catalog 2014-2015 Like Gul Ahmed, Lawrencpur, Nishat Linen, Al-Karam, Firdous, Ittihad, Origins, Naveed Nawaz, Hadiqa Kiyani, Bashir Ahmad, Nimsay, Shafiq, And Maria-B, Khaadi Etc. Today One More Well-known Textile Has Exposed It's Winter Dresses 2014. It is Five Star Classic Linen & Khaddar Kurti Collection 2014-15. This Collection Features Three Piece And Four Piece Linen Dresses Adorned With Breathtaking Royal Prints Digital Prints, Screen Prints, Block Prints Rich Luxury Embroidery, And Bold Warming Shades.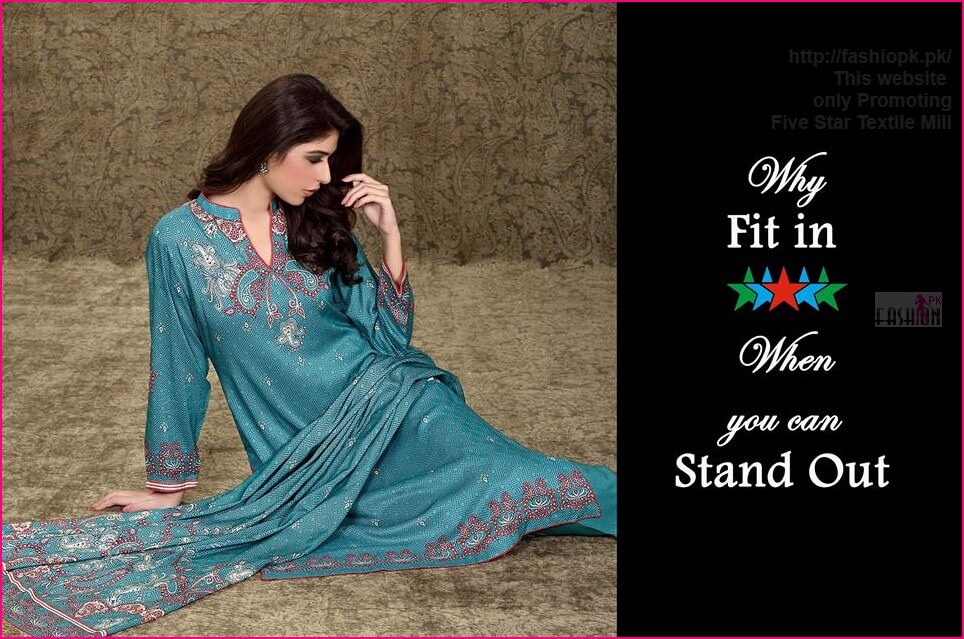 Five Star Winter Linen Collection 2014 Dresses Are Unique And fashionable, Simply Says A Touch Of Class. Five Star's Designer Has Embellished  The Shirts With Latest Neckline Design, Modern Touchy Styles And Luxurious Cuts Have Made The Dresses More Beautiful. The Second Part Of Five Star Winter-Fall 2014 Magazine is Five Star Khaddar Kurti Collection Rang Bhar do. This Collection Also Includes Floral, Classic and Digital Royal Printed Dresses Made With Finest Quality Khaddar Fabrics. Five Star Has Filled The Kurtis With Creative Great Ideas Of Stitching And Designing. Each Five Star Winter Kurti 2014 Is The Creative Combination Of Modern Trends And Traditional Designs That Not Only Reflect Our Old Fashion As Well As Give You Smart And Most Trendiest Winter Outfits That Suits You. These Five Star Winter Classic Linen & Khaddar Kurti 2014 All Dresses Will Not Only Looks Trendy But Also Gives You The Feeling Of Warmth In The Day And Night Of Winter. Let's Have A Look On This Charming Five Star Fall-Winter Collection 2014.
Five Star Classic Linen Collection 2014-15 For Winter
Five Star Classic Linen Fall/Winter Dresses Collection 2014